Meet Our Donors
Olin Associate John H. Pallein '50 (1928-2008)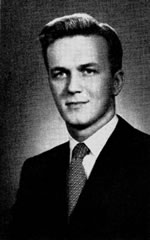 When John Pallein returned to campus in 2000 for the first time since his graduation, everything had changed… and nothing had changed. John embraced both the old and new Wesleyan with enthusiasm.
Throughout his life, John had expressed his appreciation for the Wesleyan scholarship that transformed his world, noting that "the Wesleyan experience is an extraordinary gift."
In 2004, John signed a letter of intent setting aside the majority of his estate for Wesleyan. This commitment established the John H. Pallein Endowed Scholarship Fund.
Soon after formalizing his bequest, John witnessed the early benefits of his gift in action – two four-year scholarships granted to students in his name.
In June of 2008, John Pallein passed away, but his legacy lives on, providing scholarship funding for students in perpetuity. Promising young minds continue to receive the gift of a Wesleyan education as a direct result of John Pallein's passionate belief in the University.
Please contact us to find out how you can leave a similar lasting legacy.